COMPANY HISTORY

"40+ YEARS OF CUSTOMER SERVICE"
It all began over 40 years ago with our Purina feed business just outside of Alliston. Back then, we carried bulk chlorine for the farming industry. We soon realized that pool owners were purchasing chlorine from us as well. Requests began coming in for algaecide, balancers and other pool-related product, and our pool supply company was born.
By educating our staff in the pool services industry, the transition accelerated as the pool and spa side of our business continued to grow steadily. We sold the feed business and launched John's LeisureScapes.
As part of the LeisureScapes family of retailers, we are pleased to provide a wide range of products and services to make your backyard living space a peaceful, relaxing oasis where you can reconnect with family and friends.
We are committed to providing our customers with the latest products and what's new in our industry. We consistently educate our staff and are happy to share our expertise with you.
Whether in store or at your home, John's LeisureScapes' team of experts are at your service.

---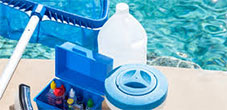 VISIT US
We are ready to help you customize a personal pool care system. A conversation with one of our trained professionals is the best way to feel confident about maintaining your pool or spa. Whether you're a new pool owner or an experienced one, we'll turn you into the neighborhood pool expert in no time.
We hope to see you soon in our retail store, or contact us using our
website contact form.
John's Leisurescapes is a member of the Pool and Hot Tub Council of Canada.